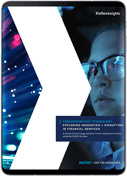 Facing myriad headwinds—fee compression, a tsunami of innovative products and services, increasingly demanding customers, not to mention a global pandemic—it's time for the financial industry to harness advanced technologies and embrace digital transformation. The most advanced leaders are already well ahead in technological innovation and, as a result, are seeing deeper insight, higher confidence in decision-making, reduced costs, greater agility, stronger performance and even disruption.
FactSet, in partnership with Forbes Insights, surveyed 201 asset managers and asset owners from around the globe to better understand where firms are on their digital transformation journeys and how they're leveraging next generation technologies and external partners. Our research, executed at the height of the COVID-19 crisis, shows that this pandemic is partly responsible for sparking even greater demand and need for fully digital end-to-end business models.
DOWNLOAD THE EBOOK TO LEARN:
How the ongoing digital transformation addresses complex challenges and opportunities
How leaders view the future role of technology—and data
How firms are moving toward a decentralization of technology
How the financial industry can move forward
Complete the form to download our eBook: Transformative Technology: Exploring Innovation and Disruption in Financial Services.