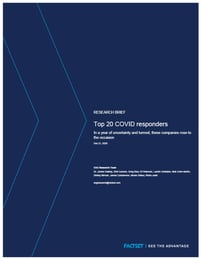 In the early days of the COVID-19 crisis, FactSet used its artificial intelligence sustainability performance capabilities to identify companies responding to the COVID-19 crisis.
Our research brief includes a list of 20 top global firms that scored highly on FactSet's COVID-19 response metric , thanks to steady efforts in 2020 fighting Coronavirus.
Complete the form to download your copy of our research brief on the top 20 COVID responders.