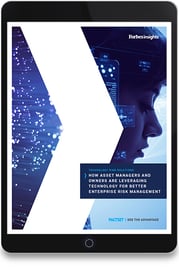 Today's technologies enable executives to build robust data environments accompanied by extraordinarily powerful tracking and analytic capabilities; they can vastly improve enterprise risk management across the full set of compliance and portfolio risks.
FactSet, in partnership with Forbes Insights, surveyed 252 global asset managers and asset owners to better understand how organizations are harnessing technology-based investment risk management solutions. Our six findings point the way forward for firms seeking to improve effectiveness, spur efficiency, drive innovation, and create differentiating value as they build a unified risk framework.
Download the eBook to learn:
The influence of data on sophisticated risk management
The future of integration and centralization
The rising relevance of multi-asset class risk in comparison to credit risk
How customized analytics can provide an edge
The role of advanced technologies, like AI and robotic process automation, in the future of risk management
Why consistent evaluation of risk management systems is critical
Complete the form to download our eBook: The Path Forward: Six Ways Asset Managers and Owners Can Leverage Technology for Better Enterprise Risk Management.