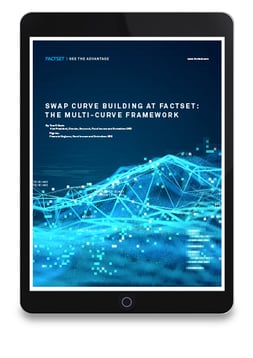 Interest rate swap curves are of central importance in valuing a very large portion of debt markets, from floating rate bonds, to mortgages, to interest rate derivatives. Prior to the global financial crisis, one single curve was sufficient to determine expected LIBOR rates of all tenors. However, when Lehman defaulted, credit was no longer negligible in interbank markets. Therefore, banks would command a premium for longer-term borrowing, and hence a separate curve is now necessary for each LIBOR tenor.
Our white paper, Swap Curve Building at FactSet: The Multi-Curve Framework, outlines two specific types of interest rate swap curves: vanilla IRS, where one party pays a fixed coupon (the fixed leg) and the other party pays a floating coupon indexed to a specified observable interest rate in the same currency (the floating leg), and basis swaps, where both parties pay floating coupons indexed to different interest rates in the same currency.
Download this interest rate swaps white paper for an overview on:
Floating leg indices
Swap pricing
Impact of the financial crisis on the swap market
Collateral discounting and overnight index swaps
Swap curve building
FactSet clients, read the white paper via Online Assistant. Not a FactSet client? Schedule a one-on-one demo with a FactSet specialist.