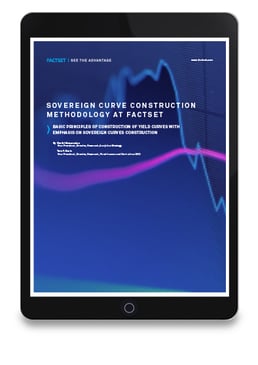 A complete risk management strategy requires a full understanding of the dependence of security prices on the rates and of the exposure of the whole portfolio. Understood as a representation of a risk-free or collateral rate as a function of maturity, the yield curve is the foundation of fixed income security pricing, hedging, and risk management.
This white paper, Sovereign Curve Construction Methodology at FactSet: Basic Principles of Construction of Yield Curves With Emphasis on Sovereign Curves Construction, examines the basic principles of construction of yield curves in general, with the emphasis on sovereign curves construction. It then uses the example of the U.S. Treasury curve to illustrate the process of sovereign curve building employed by FactSet.
Download this sovereign curve white paper to find:
The basic principles of yield curve construction
Curve construction methodologies
Why FactSet sovereign yield curves were created based on the Svensson forward rate model
The model's applicability to markets with negative short-term yields, including those based on euros, yen, and swiss francs
FactSet clients, read the sovereign curve construction white paper via Online Assistant. Not a FactSet client? Schedule a one-on-one demo with a FactSet specialist.