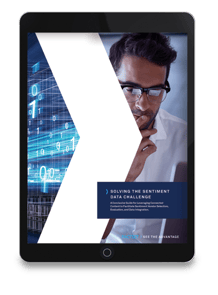 In today's world of quantitative analysis, more and more organizations are relying on some form of sentiment analysis to drive their investment decisions.
Although the level of focus and expertise on sentiment varies greatly among companies, it has become an essential part of any workflow—from generating alpha signals and scores to performing due diligence on an analyst's coverage universe.
While some publications take on sentiment analysis by quantifying the best investment approach or analyzing the merit of its varying types, there are other factors that investors, data users, and buyers need to consider when evaluating content and determining an approach.
Explore the ongoing rise of sentiment analysis and its importance in today's financial world
Develop actionable insights and connections between different types of sentiment data, users, and investment applications
Transform common characteristics of natural language processing (NLP) news datasets into valuable decision drivers
Examine common sources of language-based sentiment information alongside their associated use cases and challenges
Whether investors choose to buy, build, or blend different sentiment datasets, self-reflection on their workflow processes, investment horizon, and goals is crucial to their strategy. From asset owners to traders and sell-side analysts, all end-users require transparent, ever-expanding coverage, comprehensive mapping capabilities, and data flexibility that can keep pace with their evolving needs.
To learn more about how to effectively integrate sentiment data into your investment strategy, download our eBook, Solving the Sentiment Data Challenge: A Conclusive Guide for Leveraging Connected Content to Facilitate Sentiment Vendor Selection, Evaluation, and Data Integration.