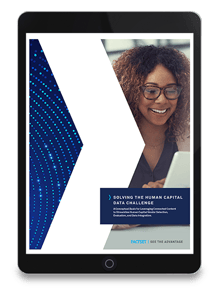 As today's business world continues to be transformed by the sheer volume, speed, and availability of data, information about professionals and their work-related performance has become an essential competitive advantage.
A window into the global mobility and evolution of human capital has opened. Investment managers and global corporations now look to "people data" to provide granular workforce views and help uncover trends within localized employment hubs, regions, and national and international industries.
While the popularity of human capital data in the investment community is apparent, there are still several factors that investors, data users, and buyers need to consider when evaluating such content and determining a suitable approach.
Understand the growing relevance of human capital analysis in the investment community
Explore how vendors develop human capital data for different investment applications
Learn why having a timely and well-maintained database is crucial to keeping pace with changing business environments
Analyze key attributes of human capital content alongside associated use cases and real-world examples
Whether stakeholders choose to buy, build, or blend different human capital datasets, self-reflection on their data collection, downstream workflow requirements, and investment goals is critical to their strategy. From asset owners and investment managers to researchers, data scientists, and software developers, all end-users require transparent, ever-expanding coverage, comprehensive mapping capabilities, and data granularity that can keep pace with their evolving needs.
To learn more about how to successfully incorporate human capital content into your investment strategy, download our eBook, Solving the Human Capital Data Challenge: A Conceptual Basis for Leveraging Connected Content to Streamline Human Capital Vendor Selection, Evaluation, and Data Integration.