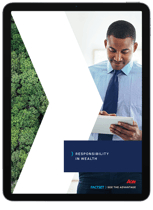 More than ever, high net worth individuals (HNWIs) are seeking to work with and invest in companies with strong environmental, social, and governance (ESG) credentials. As well as looking for companies that do good, many clients are starting to probe deeper into what it means to be a responsible organization. They are actively considering what impact accountable firms can have on their portfolios, the real economy, and their communities.
In our new research completed in association with Aon, we conducted a global survey of 800 investors with an average net worth of $1.6 million across five markets (the U.S., Canada, UK, Switzerland, and Singapore). Our research found that although investors agree that wealth managers should be responsible organizations, perceptions around how firms should demonstrate their responsibility vary widely.
Pay attention to clients' fast-evolving views of responsible wealth
Provide clients with data on governance at the companies in which they invest
Frame the theme of responsibility in the context of client values
Boost "investment EQ"
Download our new eBook, Responsibility in Wealth, to understand your clients' needs when it comes to ESG credentials and what they expect from their wealth manager.