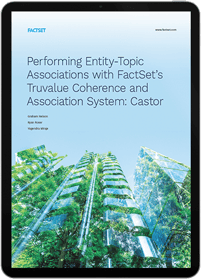 In an age where uncovering new investment insights or perspectives is paramount, the abundance of information stored in unstructured text poses several challenges. Such challenges extend to environmental, social, and governance (ESG) data, where corporate ESG disclosures are typically backward-looking, reported annually, and may not reveal all relevant ESG impacts.
FactSet's Truvalue's pipeline, Castor, automates information retrieval across millions of articles to identify risks and opportunities in real time.
Download our white paper to learn how Castor measures entity-topic associations by:
Leveraging natural-language processing (NLP) techniques
Building multiple document models to capture various document styles
Finding the right model for each entity within an article
Incorporating previously unseen, out-of-universe entities into its measurements
Complete the form to download your copy of our white paper, Performing Entity-Topic Associations with FactSet's Truvalue Coherence and Association System: Castor.