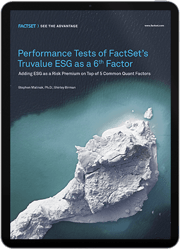 Factor investing has grown in popularity from the seminal Fama-French factors1 of the 1990s to the proliferation of Smart Beta funds over the past decade. Although there have been proposals for hundreds of additional factors, adding new factors only helps if they are sufficiently uncorrelated to reduce risk and/or increase returns.
Extensive testing of FactSet's Truvalue ESG Activity Signal shows that it both reduces risk and increases returns when applied to most popular equity benchmarks. This study shows how the FactSet ESG factor combines with five well-known quant factors or "risk premia" across a variety of market conditions and geographic regions.
Complete the form to download your copy of our white paper, Performance Tests of FactSet's Truvalue ESG as a 6th Factor.