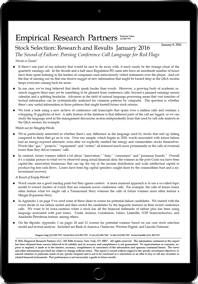 Advances in the field of natural language processing now means that large amounts of textual information can be systematically analyzed for common patterns by computer. In The Sound of Failure: Parsing Conference Call Language for Red Flags white paper, Empirical Research Partners used this technology to determine if there is a significant difference in the language used by firms on earnings calls whose stocks go on to rise versus those that sink.
After examining an archive of conference call transcripts that spanned over one million calls and contains 20 gigabytes of text, Empirical Research Partners discussed three methods to analyze transcripts. First, it reviewed transcripts for trends in words; then, it used the Latent Dirichlet Allocation (LDA) model, which groups common words and topics to provide context around words, and finally it categorized words into positive and negative categories to determine sentiment.
Please note: this white paper is intended for a buy-side audience only.
Download the white paper to get these key research findings:
Winners talked a lot about "innovation," "data," "consumers" and "premium brands."
Words like "gas," "projects," "equipment" and "orders" all featured much more prominently in the calls of eventual losers
The LDA model found that the best barometer of a company's future success was using words associated with the "Turnaround" and "Margin Expansion" topics
Fill out the form to the right to get the full research report, The Sound of Failure: Parsing Conference Call Language for Red Flags.