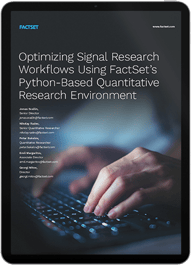 In recent years, systematic techniques have grown in popularity due to the main drawbacks of more traditional discretionary investment approaches. To address these roadblocks, investors need an automated, end-to-end solution that seamlessly takes them through the key steps of the investment process.

In this paper, we provide a practical example of a sample of modules and functionalities that a quant researcher can utilize within FactSet's web browser-based, Quantitative Research Environment (QRE), for the purpose of standalone and composite signal performance analysis.
Complete the form to download our whitepaper: Optimizing Signal Research Workflows Using FactSet's Python-Based QRE.