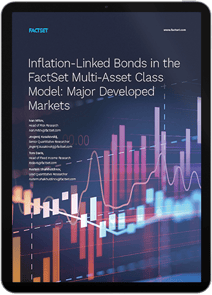 The COVID-19 pandemic has fueled concerns regarding inflation in the market, including the noticeable increase of Inflation-linked (IL) bond market segments in late 2021. Thus, this global problem has emphasized the importance of the asset class as inflation protection for long-term investors. To have this protection, one must have the right analytical tools for managing risk factors influencing this asset class.
In this whitepaper, we describe the inflation-linked bond modeling methodology from the major developed market segments in the FactSet Multi-Asset Class (MAC) models.
Complete the form to download our whitepaper: Inflation-Linked Bonds in the FactSet Multi-Asset Class Model.