Global Equity Model White Paper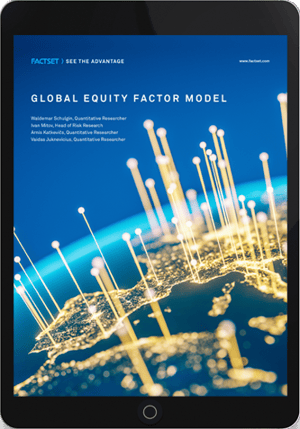 The FactSet global monthly equity factor model is a cross-sectional model that consists of ten style, 52 regional, 69 industry factors, and one factor that represents the movements of the global equity market. The common factor returns are estimated via cross-sectional regressions for a carefully chosen universe of securities.
Download the Global Equity Factor Model white paper for a list of selected common factors that comprise the model as well as the estimation methodology for equity factor exposures and factor returns. We decompose equity risk into systematic and idiosyncratic parts and provide empirical evidence for the factor model quality including a list of t-statistics and rolling bias tests.
FactSet clients, read the white paper via Online Assistant.
Not a FactSet client? Schedule a one-on-one demo with a FactSet specialist.