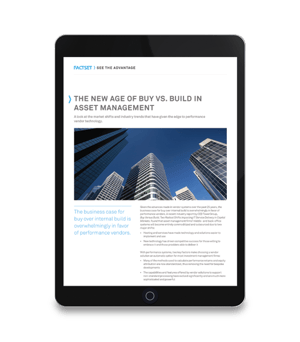 When it comes to upgrading your asset management firms' middle- and back-office systems, the business case for buy over internal build is overwhelmingly in favor of performance vendors. Today, performance systems must be integrated with the upstream systems that supply data and they must also be able to distribute performance information efficiently to internal and external clients. This means that the business processes that rely on performance systems have increased in scope, scale, and complexity. This has tilted the total cost of ownership in favor of vendor solutions.
While most firms would not consider developing a custom performance measurement and attribution system today, many are still considering enhancing legacy platforms. However, all of the disadvantages associated with a custom system apply to a legacy platform.

To see all of the points your firm needs to consider before deciding between a vendor solution and enhancing a legacy platform, download this eBook: The New Age of Buy vs. Build in Asset Management.