Discover a New Corporate Spread Risk Model for Credit Securities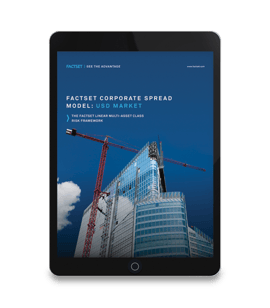 Explore the research foundational to a new credit spread risk model that forms a major part of the FactSet linear multi-asset class risk framework in our white paper, FactSet Corporate Spread Model: USD Market. This paper outlines a model that can be used to forecast both spread volatilities and correlations between different sectors/industries for both systematic and idiosyncratic components of corporate bond spreads.
FactSet clients, read the white paper via Online Assistant. Not a FactSet client? Schedule a one-on-one demo with a FactSet specialist.