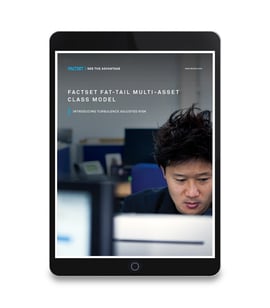 FactSet's Multi-Asset Class (MAC) Risk Model has been designed and developed to serve the growing need of risk and portfolio managers for reliable monitoring and proactive management of investment multi-asset class portfolios.
As risk management represents a critical ingredient in the investment decision-making process, the reliability and predictability of risk estimates become exceptionally important. They require capturing the complex phenomena of the markets' dynamics, such as excessive probability of extreme events, dependencies in the occurrence of large (negative or positive) returns across markets, volatility clustering, and asymmetry of the assets' return distribution. With this model, FactSet answers the need for predictable risk analytics
Complete the form to download your copy of FactSet's Fat-Tail Multi-Asset Class Model.