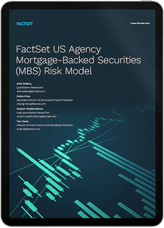 The MBS market is one of the biggest and most liquid segments of the U.S. fixed-income market, reaching 12.2 trillion USD outstanding at the beginning of 2022. To enable additional granularity in spread risk assessment, grouping based on the underlying mortgage contract term and issuer is introduced to complement a market segment-wide refinancing incentive factor.
In this paper, we explain the framework of the renewed FactSet risk model for handling risk of the U.S. mortgage-backed securities (MBS) in Multi-Asset Class (MAC) risk product.

Download this white paper to:
Understand MBS and its distinctive features
Forecast risk of U.S. agency MBS and similar securities
Complete the form to download our white paper:
FactSet U.S. Agency Mortgage-Backed Securities.