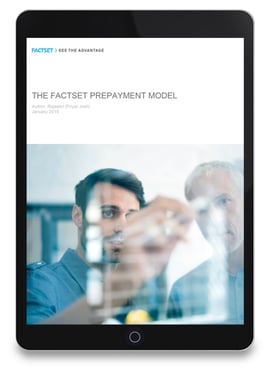 Investing in mortgage-backed securities (MBS) requires an investor to assume some uncertainty in the timing of principal repayment since the underlying mortgagor has the right to pay off their loans early. The prevailing primary mortgage rate is a key driver of prepayment rates or "speeds". But prepayment speeds also depend on numerous other variables.
In our white paper, The FactSet Prepayment Model, we describe the elements of our prepayment model and the mechanisms that it utilizes to capture the dynamics of mortgage prepayments. In each section, we include the relevant market background and our rationale for how each element of our model is constructed, including:
Sources of prepayments in mortgage pools
How prepayment speeds are measured
Our model structure and the key speed drivers within it
Financing speeds
Discount speeds
Curtailment speeds and full payoffs
Our approach to modeling speeds on Ginnie Mae pools
Model fits on selected cohorts
Complete the form to download your free copy of our white paper, The FactSet Prepayment Model.