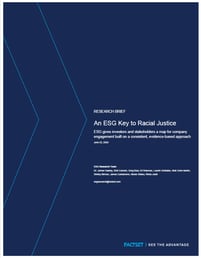 "Companies should publicly state what they are doing to combat racism and police brutality," wrote John Streur, president and CEO of Calvert Research and Management, this June. "This is an ESG problem," he continued, adding that "…open and forceful action is required by investors and by corporate leaders and boards."
Beyond police brutality, corporations play a role in societal racism and can often correct injustice in their own businesses. Streur's call to action should be heeded by investors for three key compelling business reasons beyond the moral imperative of this issue.
Complete the form to download your copy of our research brief on ESG and racial justice.