Use FactSet while leveraging OpenFin to interoperate with your homegrown and third-party applications.
OpenFin as a desktop scaffold allows FactSet to deliver turn-key services and workflow solutions. FactSet provides a seamless user experience spanning idea generation, research, portfolio construction, trade execution, performance measurement, risk management, reporting, and portfolio analysis to drive productivity.
Gain a multi-window desktop experience using HTML5 components
Ensure communication with applications using interoperability standards
Leverage a consistent foundation/platform for symbology & concordance
Watch our video to see how you can leverage FactSet's ability to interoperate with other applications.
Want to learn more? Read our brochure here!
SPEAKER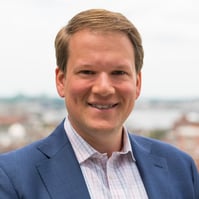 Patrick Starling
Vice President, Director, Sales Engineering | FactSet
Patrick Starling heads up FactSet's Global Sales Engineering team which is focused on building technology partnerships and next generation enterprise solutions with the full suite of FactSet's technology, content, applications and people. Previously, Patrick has worked at FactSet as a datafeeds Sales Engineer, as VP – Key Accounts acting as a global account manager for large Fortune 500 asset managers, and started as a FactSet Consultant. Patrick holds degrees in Economics and Theatre Arts from Virginia Tech, and is currently studying for a Masters in Information Technology from the University of Massachusetts Lowell