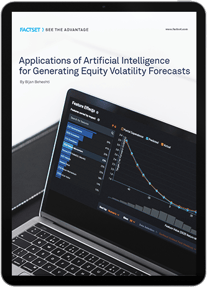 Artificial intelligence (AI) and machine learning are no doubt extremely powerful tools that have reshaped entire industries.
Despite the enormous impact these concepts have had on the world, asset managers continue to struggle with incorporating AI into their investment process.
In this white paper, we explore the topic of AI and machine learning relating to investment management, followed by a deeper analysis of a single-use case: generating daily equity volatility forecasts. In addition to defining a universe and selecting the data we'd like to include in our model, we discuss how to effectively:
Train and evaluate a machine-learning model
Leverage AI to build a model repository
Narrow our repository to select a single model
Use volatility predictions as a factor
Complete the form to download your copy of our white paper, Applications of Artificial Intelligence for Generating Equity Volatility Forecasts.